The Whaley House in San Diego…
Is considered by many ghost hunting experts to be the "most haunted place in America." This 1857 Greek revival style home and museum is a Historical Landmark that was built over a former graveyard. It has gone through many incarnations during its existence including a general store, courthouse, and commercial theater. It is said that the building has witnessed more history than any other building in the city.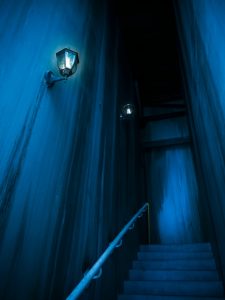 Thomas Whaley and his wife Anna Whaley built and lived in the home after they were married. They had six children, one of whom died from Scarlet Fever in August of 1858 when he was 18 months old. The loss of their son was too much to bear and they left the home and relocated to San Francisco where they stayed for a number of years. In 1868, the family returned to the home in San Diego where they intended to stay and raise their family. Years later their daughter Violet married a charming young man who turned out to be a con artist that left her shortly after their wedding. He had believed that marrying her would mean a good dowry for him because of the family fortune and when this did not occur he left her. Due to the restrictive morals of the day, as a divorcee, Violet was shunned by polite society. Unable to recover from the humiliation and betrayal, she committed suicide.
Though several guests and employees have said that they have seen ghosts of members of the Whaley family wandering the house, it is said that it was haunted when the family lived there as well. Shortly after they moved into the home they told the San Diego Union Press that they often heard the sounds of heavy footsteps wandering the halls of the home. The family believed that they were experiencing a haunting by a man by the name of James Robinson who had been hanged on the property. Since then people have reported seeing Anna, Thomas, Violet and the young child at various places throughout the home. Though there have been no proven sightings, the number of reported sightings of various apparitions over the years have given it a reputation for being a local haunted hot spot. On the last weekend of each month there are ghost hunting tours available to the public and on Halloween, the house is open for special tours as well.