Toronto, Canada is a beautiful city for tourists to explore.
Whether you like the high traffic spots, like the CN Tower, or prefer kitschy spots that sit left of the beaten path, you are sure to find something waiting in Toronto. Here are a couple of cool spots to discover on your journey.
Rush Lane
If you are a fan of street art, then you need to head over to Rush Lane. There is a lot of interesting art work too see on the walls of what has been nicknamed "Graffiti Alley," by locals. Once upon a time it was a somewhat dreary area of the city but it has been dressed up quite a bit by the unique work of local graffiti artists.
Kensington Market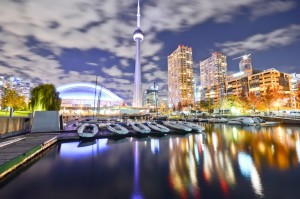 This beautifully diverse neighborhood is located in the heart of downtown Toronto. It is one of the most well-known neighborhoods in the city because of its eclectic mix of people, unique shops and eateries. The Market is a noted tourist attraction and has become a draw to artist, writers and other creative types who have moved into the area in recent years. The residents seek to cultivate the quirkiness of the neighborhood and relate to their multi-cultural community vibe. As such, they have done their best to maintain it as other nearby areas have given way to gentrification.
Hart House
Located at the University of Toronto, Hart House is home to a 650-piece art collection, 59 of which are designated as Canadian National Treasures. Professionally trained students lead free tours of the collection throughout the academic year.
Pacific Mall
Opened in 1997, Pacific Mall is one of the largest indoor Chinese-Asian Malls in North America. It is a one-stop place to pick up Asian-made products, shop for food and other culturally inspired items. Whether you are looking to find your favorite Asian spices, have a bowl of your favorite Asian inspired soup, or shopping for a laughing Buddha, you will find a booth that can provide that which you seek. The mall is open year-round, including holidays.
This list does not begin to scratch the surface of what awaits you in Toronto. Head north to what the city has in store.