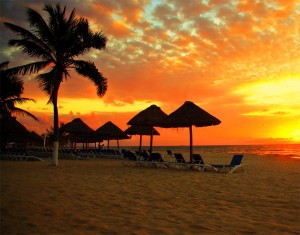 There are hundreds of miles of coastline along the Central American country of Panama. While much of the coastlines are not accessible for lounging around, there are still plenty of stunning beaches located throughout this lovely area. From lush, tropical coastlines to pristine and sandy beaches, Panama is not one to disappoint. Ultimate Excursions invites you to come with us as we take a closer look at a few of the best beaches Panama has to offer you.
Isla Bastimentos National Park is often referred to as the Slipper Islands due to the fact that the islands resemble footprints. This is the quintessential beach in Panama as the beach has soft sand to sink your toes in and is backed by a wild and tangled, verdant jungle. The water that fronts the beach is full of brilliantly hued coral that attracts millions of colorful fish. It is the perfect place to try your hand at snorkeling. The best time to head for the beach here is from August until October when the waters are at their calmest.
Isla Coiba National Park is ranked as the best diving site in Panama. It is perfectly sublime as a beach destination too. The waters are the perfect place to don your wet suit and dive or just grab your mask and snorkel and swim along with the many fish. For those that don't like to do either of those, the pristine sandy beach is perfect for just sitting back and relaxing with a good book as well.
Kuna Yala is the crème de la crème when it comes to beach locations in Panama. There are over 350 islands that pepper the picture perfect coastline. This is what you dream a beach will look like, and it comes to actual fruition here. The sand is soft and powdery white; the palm trees sway in the breeze off and the waters are that surreal turquoise. This beach is meant to be enjoyed by lazing in the sun and simply frolicking in the water as scuba diving is strictly prohibited.
These are the beaches that you dream of when you long to get away from it all and splash in the surf. They are they idyllic epitome of what we personify as a beach, and could be placed on any post card. Grab your sunscreen and your favorite dog eared beach read and head for the sands of these Panama beaches.