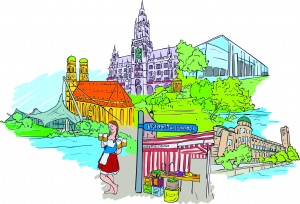 The seasons always seem to go so fast, especially with regard to summer. Despite the fact we would prefer summer to stick around, fall does rank as one of the most popular times of year for many. There is no shortage of things to do and one of the best is the annual celebration and tradition of Oktoberfest. There's no need for international travel to partake in this festival as there are plenty of American Oktoberfest's that will proudly have you raising your stein. Ultimate Excursions invites you to visit 3 of the best.
You don't have to already have a few pints under your belt to feel like you've been transported to an actual Bavarian Village in Leavenworth, WA. Their annual Oktoberfest takes place the first three weekends of October. The festivities aren't just about beer, although there is plenty of that to imbibe in. There is plenty of German food to appease your hunger and you'll find no shortage of sauerbraten and many other traditional dishes. Live music will have you dancing the day and night away, and there are plenty of activities for the whole family to partake in.
The only city outside of Germany to actually be sanctioned in the US for Oktoberfest is Frankenmuth in Michigan. It garnered the honor in 1996 and the festivals official sponsor, Hofbrauhaus, is one of the quintessential breweries in Germany. You might find them at your local watering hole now, but Frankenmuth was the first place to carry it in the US. The city prides itself on the preservation of its German culture and heritage and this is proudly shown through the annual festivities.
The largest Oktoberfest that takes place on US soil does so in Cincinnati, OH. Referred to as Oktoberfest Zinzinatti, there are over a half a million people that partake in the festival annually. The party takes place over 6 city blocks and you will find plenty of food offerings from the 30 vendors that are showcased in addition to many great beers. After a few of those, you might find yourself dancing the night away at one of the seven stages providing music throughout the festival.
Oddly enough although it is referred to as Oktoberfest, many of the festivals actually take place in September, even in Germany. So, if you are looking for a reason to get out and enjoy yourself with a few steins and want a reason to don your lederhosen, the Oktoberfest's in the US are the perfect way to do so.