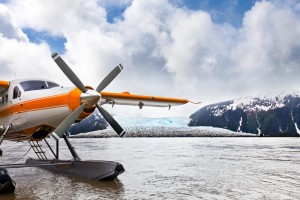 If you are angling to catch a fish in Alaska, you shouldn't have that hard of a time. With nearly seven thousand miles of coastline, and three million lakes, there is no shortage of places for you to drop a line in. Best of all, you can fish year round in this massive outdoor paradise. Ultimate Excursions invites you to take a closer look at one great fishing adventure that Alaska has to offer you.
One of the best places to fish in Alaska is at the Kenai Wildlife Refuge. It is teeming with plenty of fish to hook, from sockeye salmon to rainbow trout, to halibut. In fact, this amazing refuge holds the record for largest halibut ever caught in the world. There is limited entry permits allowed, so make sure you plan accordingly to get yours. You can even team up with an outfitter who can show you various techniques of fishing in the Alaskan waters as well as stunning scenery.
While planning, you can book your stay at the Kenai Riverside Lodge. They have their own fishing program, The Kenai Riverside Fishing Program. The lodge is located on the headwaters of the Kenai River. Accommodations include cozy cabins, a sauna, and yummy home cooked meals after a long day on the river fishing. Don't be surprised to find some of the day's fresh catches on your plate. The best perk of booking here are the guides in the fishing program. These are experts when it comes to fishing these waters and they are more than willing to share and impart their knowledge with you. They will teach you the best baits, lures and flies to use when angling the Kenai River. Your skill level doesn't matter, you can be a beginning fisherman or extremely accomplished, they will still have some tricks that might appeal to you up their sleeves.
This is sure to be the dream Alaska fishing vacation you have been waiting for. The opportunities of hooking some of the best fish is right beneath your boat or even your feet, and the scenery that surrounds you is sure to have you in awe. Get your fishing hat on, don your waders and get ready to sit back and reel them in. You won't ever need the excuse they weren't biting today on fishing trip in Alaska.