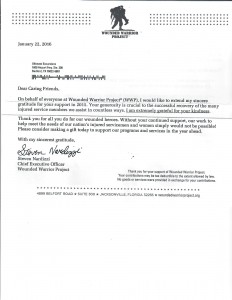 Ultimate Excursions is always happy to be able to give back to those who need it in and around our communities. This includes our veterans who risk everything to protect and serve this great country. We are proud to be able to help once again, by donating to those who have sacrificed so much for our freedom, our veterans and the Wounded Warrior Project.
The Wounded Warrior Project or WWP is a charity dedicated to the well-being of our veterans and service members who have served our country since the terrorist attacks of 2001. Since then, the vision of the Wounded Warrior Project has remained the same: "To foster the most successful, well-adjusted generation of wounded service members in our nation's history."
Additionally, the purpose of the Wounded Warrior Project continues to not only help those injured and provide long and short term support, but also to raise awareness and get help for those injured in the line of duty.
With help from companies and individuals throughout the country, the Wounded Warrior Project hopes to be able to help service members not only in states around the U.S., but overseas as well.
The proud and dedicated men and women of our armed services, deserve our support and our help in their time of need. Ultimate Excursions recognizes this need and is proud to be able to support this wonderful cause.
Ultimate Excursions is a leader in the resort marketing and development industry. With over 75 years of combined experience, Ultimate Excursions has proven to be effective in all its projects. Some of our projects are the Acapulco Plaza in Acapulco, Pirámide Del Rey, Club Lagoon Cancun and the Xanadu Freeport Grand Bahama just to name a few. Ultimate Excursions can help with your project from concept to implementation. Specializing in sales and marketing, Ultimate Excursions and its professional staff can help with design, demographics and more.