Historically it is believed that the hobby of kite flying began in China.
The inspiration likely derived from the observation of the way in which wind moved through leaves and sails and carried them along on the breeze. Through the years, kites have become so popular that there are entire festivals around the world dedicated to them. Here are a few of the top international kite festivals to check out on your travels.
Festival of the Winds, Bondi Beach Kite Festival: Australia
The Festival of the Winds is the largest kite flying festival in Australia and takes place annually in September. Hundreds of kites fill the Australian spring skies in a multitude of shapes and sizes. Professional flyers intermix with the novice, children can buy kite kits to create their own unique designs, and awe-inspiring showcases are presented throughout the festival. In addition to the kites, there are multicultural music, dance and food showcases throughout the festival. More information can be found at atbondi.com.
Bristol Kite Festival: Bristol, England
This family-friendly event features giant special-shaped 3D animal kites, Japanese fighting kites, a wind orchestra, bouncy castles, and kite-making workshops for children. This year marks its 29th year and includes guests from all over the world. Information is available online at kite-festival.org.uk.
Dieppe Kite Festival: Dieppe, New Brunswick, Canada
This festival tops the list of best kite festivals in North America. It has been 15 years since the festival was created as a means of offering a colorful, international event for families. Top kite flyers from around the world come to Canada each year to celebrate and show off their skill. More information can be found at tourismnewbrunswick.ca.
Supumago Day of the Dead Celebration: Sumpango, Guatemala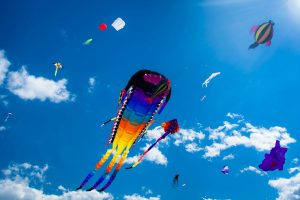 Thousands of people from around the county join in this annual festival. Community groups from Sumpango create ornate, giant kites made entirely out of tissue paper, working together for months leading up to the event. In addition to the majestic displays, the celebration includes music, food, and dancing.
These are just a few of the international annual kite events available to travelers. There are hundreds of other opportunities available throughout the year. Explore and find the best spot to ease your line and launch your kite into the wind.